CNY Medical Products specializes in Complex & Custom Rehabilitation Equipment. One size does not fit all when it comes to mobility equipment. That is why our Assistive Technology Professionals or (ATPs) will work with the patient, Doctor, Physical Therapist, and Insurance Provider to find the most suitable equipment for a customer and, if necessary; modify the equipment to the users needs. We can custom order Wheelchairs, Power Wheelchairs, Gait Trainers & other mobility aids to the exact specifications of the patient.
We work with major manufacturers of complex rehabilitation equipment such as Sunrise Medical, Pride Quantum Rehab, Invacare, Permobil, Ultimate Medical and many others to find the most appropriate items for each individual. We can even build custom backrests, cushions, legrests, and other positioning features with our in house fabrication shop.
Ultra lightweight wheelchairs are custom ordered to the user and their daily needs. Their minimalist frames have fewer moving parts for maximum efficiency. As an extension of you, they are highly responsive, ultra lightweight, and offer precise control, superb balance, and exceptional performance. Power assist drives such as Max Mobility's SmartDrive, can be purchased and installed to give the user a new form of manual mobility with an electric wheelchair function.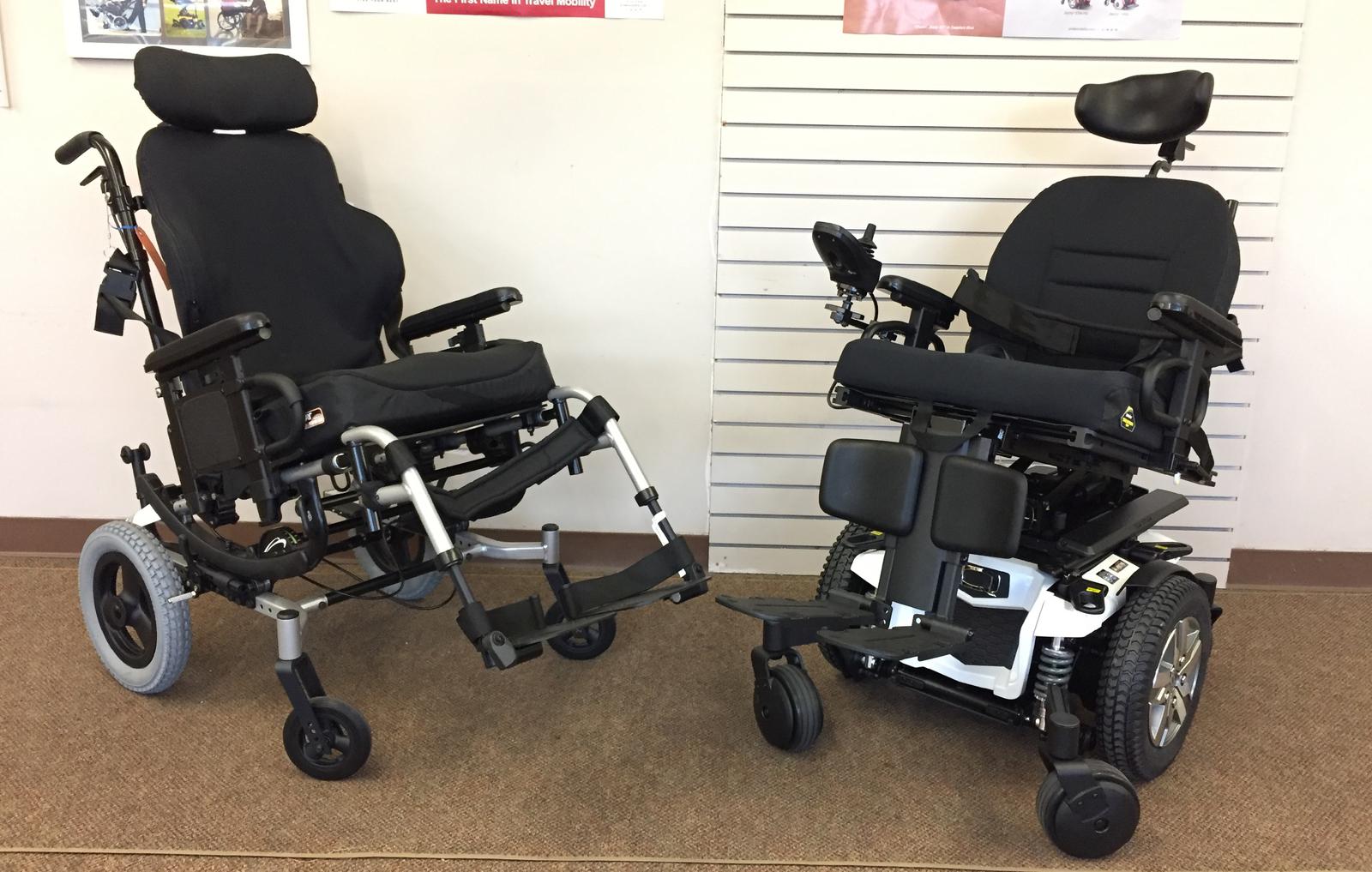 We custom order Tilt-N-Space Manual Wheelchairs and Power Wheelchairs to help reduce the risk of pressure injury by redistributing pressure from the pelvis to the trunk and provide a safe and easy way for assistants to provide weight shifts for occupants. We will show the user, family, and caregivers the benefits of high end pressure sore reducing cushions, such as foam, gel, and ROHO air cushions. The Agency for Healthcare Research and Quality reports that "Pressure ulcers cost $9.1-$11.6 billion per year in the US. Cost of individual patient care ranges from $20,900 to 151,700 per pressure ulcer. Medicare estimated in 2007 that each pressure ulcer added $43,180 in costs to a hospital stay." Our goal is to use the latest technology and equipment to prevent pressure ulcers and lengthy hospital stays as much as possible.
A great alternative solution to a wheelchair is an adaptive stroller for pediatric patients. Adaptive strollers offer the look, feel, and lightweight portability of a regular stroller with special custom seating options for children with mobility disabilities. Convaid and Drive Medical adaptive strollers can be modified in many different ways to fit a child or add a canopy, or even a transit option to the stoller so that they can ride on a school bus while sitting in the chair.
For more information on these or other items contact us at 315-428-9945.